31/7

I M BACKKKKKKKKKK!!!!!!!!
Had been so busy this 2 days~
n i m very puas now after singing at rendezous cafe at kampung pandan!!~
got ppl treat us cake today~
n ter's a H on my cake! my name!!! wakkak
anyway, i dont have the picture =.=
BUTTTTT! all the pictures are coming soon~ as da bf is coming down tmw~ yahooo~~!!!!
weeeeeeeee
danceeeeeeeeee
ps: i m really tired now~ its 1.06am....i really need to sleep~ chat with u all tmw k? :p
nitenite~

28/7
3 good news for today~
1) I m gonna construct a yoga class for all the managers n interns!!!!!!!weee
*although there are only 17 of us~ wakaaka*
2) tmw gonna sing at Kota damansara station 1!!!!!!!!
so excited! 
 n i m now still searching for the lyrics! lolzzz
any songs tat u love?

drop me some tips k?so tat i can sing it tmw! wakaka
3) BEAR IS COMING ON THIS WEEKEND!!!!!!!!!!!
n ter willl be a big surprise!~weeeee

n oh god!!!! i dont know wat should i wear tmw night!!!!! :(
gonna find it NOW!
i m kinda love tis style~ casual but sweet~ anyone knows wer to get tis kind of black colour skinny pants?
craving for 1 for so long d! 

:p
ps: i m READY for the da cutesy ribbon top! gonna wear it on this weekend if ter isnt any buy it!
I wont sell if ter isnt anyone paksa me to sell it as a punishment! lolzzzzzz






27/7
finally...my layout is done!
how was it?
i love it so much cz i put a lot of effort on it!
n im so in love with floral now!
so...pls dont ask me again k?
i WONT sell my floral dress~ cz i love them till faint! wakaka
n finally...50k~ so happy nehxxx!!!!!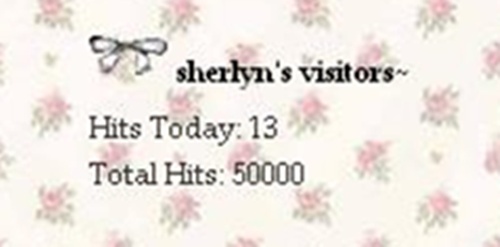 special thanks to poh sian, A very sweet gal for helping me to make this~ weeeee






26/7
yahooooooo!!!!!!!!!!!!!! finally!!!!!!!!!!!