18/1/09
* last post for this week*
Last day of the week! today really happy as my princess finally can meet wit her bro @ my grandma house! they sleep together by sharing a blanket n on my grandma bed! they both look so cute! i will miss my bro everytime i saw them playing, chasing n fighthing wit each other! the sis really care a lot for the bro. they cant meet up oftenly as they study @ different places n the sis is staying wit my family while the bro is staying wit their parents! my parents bring them to Jusco today n they were laughing, shouting n chasing wit each other! they were jz so happy! however, darkness always come after the light. The mom is coming to fetch the bro go home late night n the sis was really sad n dont want her bro go home wit their mom. she didnt say anything though. n tat's y at first i didnt feel anything from her. however, after a couple of minutes, her tears begin to fall all the way down along her face. She MISS her bro so so much! my heart was breaking n i can und the feeling as i had the same feeling wen my bro leave me wen i was form 3. I'm so sad n i dont know wat can i do for her... she's jz a little gal! she love her bro so so much tat we cant imagine although they didnt meet up always. She is sleeping right beside me now. Every night i can keep myself from giving her a kiss. I love her so much!!!! Even wen i was in cyber, i miss her badly! i had dream about her for some nights n usually will end up wit wake up n cried alone. sometimes is not alone of course. however, the conclusion is i love her n miss her badly! i dont want her to feel sad o down!!!!! i wish i could give all the love tat i have to my baby princess!!! i love her so so much!!!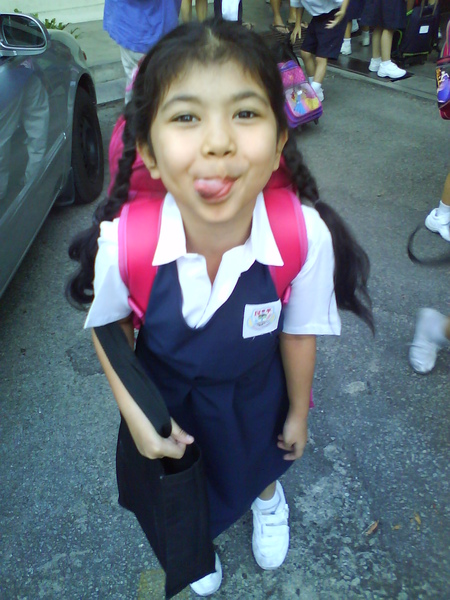 the school bag is really heavy n she got a lot of homework everyday! really dont und y the kids nowadays have to bring so much text book to school n do so much homework!!! everyday she need to sit down on her study table right after her school to finish up her homework =.=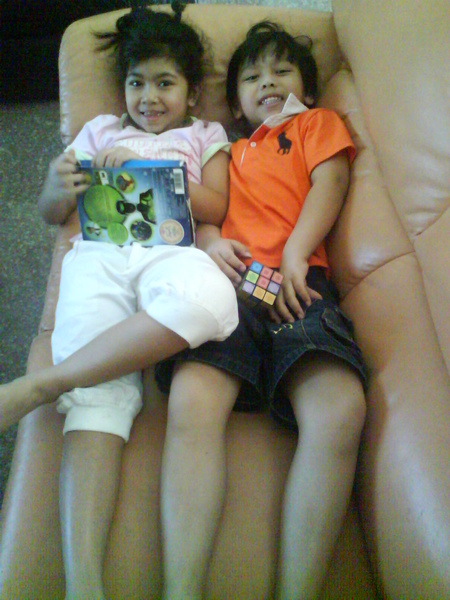 the sis n the bro! cute?? wee wee the bro is bigger size than the sis!!!! so so much =.= haha cute!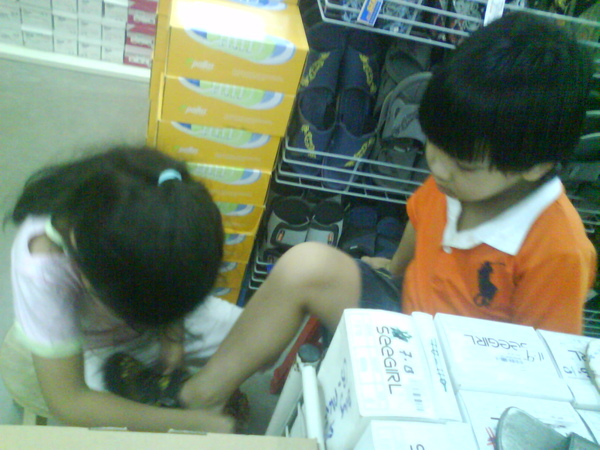 the sis is helping the bro to wear his shoe! haha =.=
i miss u both la! so cute! =.=
17/1/09
@ah ma house now :p hahah
act like a babysiter for these few days...fetch the kid to school..play wit her...bring her to meet her parents n bro...make sure her homework is done...help the kid bath...eat....=.= sounds like an old lady taking care of a new born child...n yes la,i m a beginner mummy~
today jz visited my friend who is same age wit me wit a 8 month-old child~ so cute nehxxx tak boleh tahan!!! n he is so handsome!!!!!!!!!!ppl said guys wit small eyes sayang their wife a lot!!! haha i dunno whether it is true but i think my dad had done a good job on taking care of my mom for this few years!!!! oopppsss bear got double eyelid!!!!!does it mean tat he will not sayang me as those guys wit single eyelid???? haha i dunno cz we haven married yet!will tell u guys after we married la !!!haah
n act...ter r always some *ps* living in my heart~ i was thinking of marriage n get a baby the sooner the better! haha i want to get married nowwww as well! haha however, it sounds like a hungry ghost hunting for food!~ haha anyway..it's jz a small thought in my mind la! i believe tat most ppl will have all this crazy thoughts in their mind! i und tat in the real life, i wont be able to do tat as i really love fashion, pink n hello kitty soso much!! i havent get my degree wit first class honour!i havent explore the world! i havent *cheng sui sui, pang nui nui*! i havent made my hello kitty room!i havent cook a set of *delicious* food for my bear n my family!i havent slim down to 50kg! i havent do so much things! oh ya, before i forget! i havent get my MJ comb mascara!!!!! n one more the most important thing is, i havent get my MAC hello kitty special edition make up set!!!! oh ya!!!got one more!!!! i havent buy my lovely car n havent decorate it wit all the beautiful lacesss!!!!
OMGGGG !!!!! i havent done so much thing yet!!!
nope! i cant get married now!!! hahah n i believe nobody wanna marry me yet!!!! hahah
ok then, change topic! haha
today finally help my DAD to choose all his cny clothes weee happy nehxxx...he buy watever i suggested!!!its a sense of accomplishment!!!!!:p n i have decided to buy a tie for him as a cny present :) weeweee tis is the first time my dad let me buy something for him :) love u dad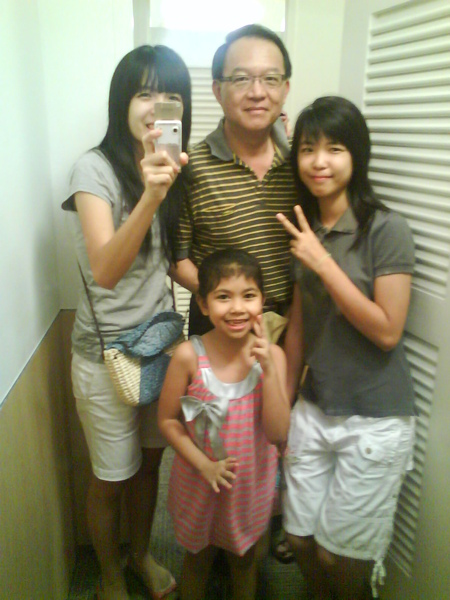 oops i didnt realize tat my face is covered by the phone~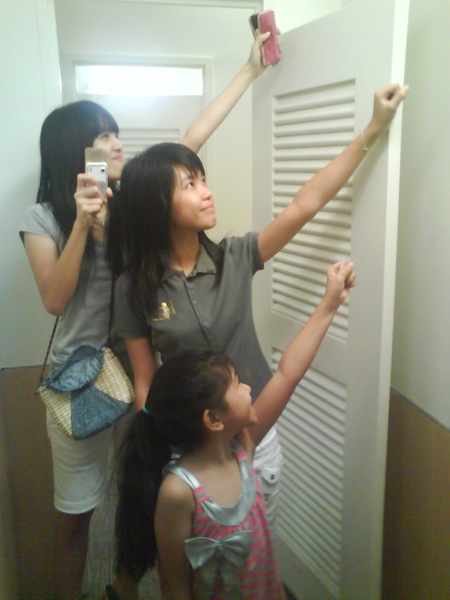 yo! 3 princess tat go shoping wit the king! hahah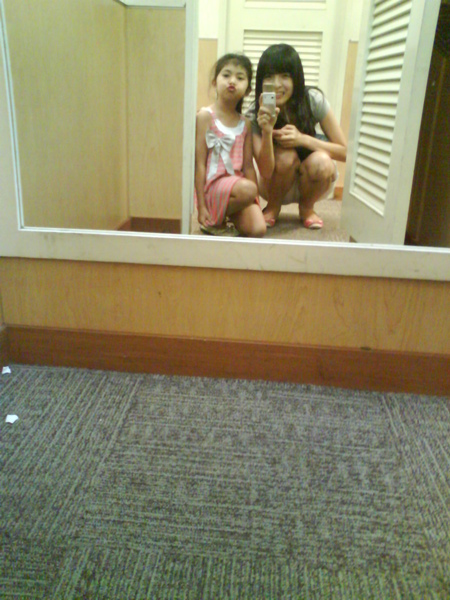 one uncle is walking towards tis fitting room right after our camwhore! haha so sia sui =.=
16/1/09
pig biao mei is coming to find me wit her new myvi :p
n guess wat??? my 42 inch TV is coming!!!!!!yeahh
weee weeee so sharp n nice!!!!!enjoy~ :p
besides, i m happy enough tat finally i bought my red dress for chu yi haha! but its not the whole dress is red colour~ only the colour n the bottom is red wit wht polka dots..the rest all white...wit a cute bow behind :p an old style dress~ yuhooo so happy nehxxx!!!!
but no pic for tis dress hahah! cz i will update it after cny when i wear it!!!!
EXCITEDDDDDD!!!!!!
15/1/09
can someone tell me whether i should dye my hair or jz keep it black???
i have been thinking of it for quite a long time...help =.= mama

14/1/09
shopshopshop
we shop the whole day long @ gurney n queensbay =.=
sing k, shopping, eat, movie for 14 hours! screammmmmmmmmm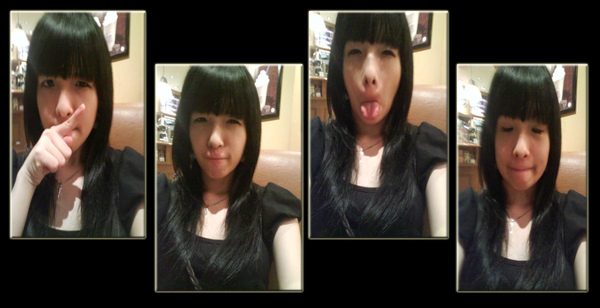 camwhoring@coffee bean while waiting for the movie *12am* since its only 10pm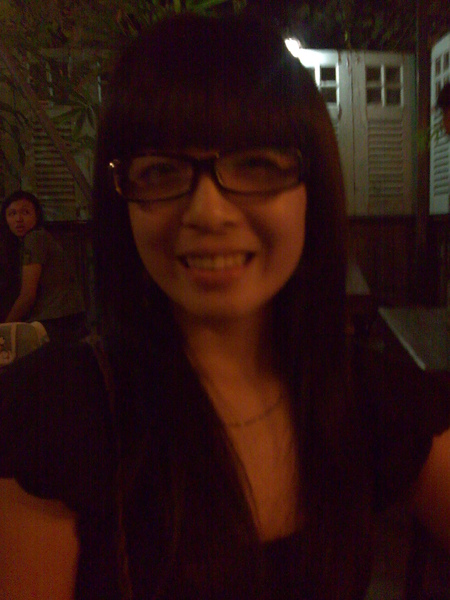 thx to karen's for the spec hahahah

haha nice pose in cinema blek:p
guess whose leg!!!!hahaha

13/1/09 *problem solved*

happiness always wont last long u see...haizz...something jz happen to me! i always need to face problem by myself since i'm 21 now! hooo
take a breath first~
yesterday, i had decided to buy another stocking from another blogshop~ everything is fine until i receive her email that the account no.tat she gave me is incorrect, instead of giving me a 12-digit no she gave me a 11-digit account no. I didnt realize it wen i send as i m a cimb account holde...so sad =.=
i called cimb n maybank customer service jz now n they said it will be fine, i will get bac my money soon.
however, RM2 will be deducted from my account~ n so...i requested to tat blogshop for having a RM2.50 *include the transaction fee* for tat stocking tat i purchase~ i'm still waiting for her response n i hope she is really a responsible e-shop seller!
one more experience tat i gained! *on an angle side*
one more problem tat i faced! *on a devil side* =.=
Exciting~ jz reach after the 5 hours traveling from the cyberjaya! ahha
i guess ter will be a lot of random things tat will be happen during this holiday...so i created tis entry to blog out all the pieces tat happen during this week :p
yap tis is the one i wan :p *waiting*
cutecute puffy skirt *get d*
rose style stocking~ nice??? *get d*
lovelovelove it so much~
12/1/09
the 2nd day bac from cyber!
current mode :
crazy in sleeping
crazy in blog hopping
crazy in e-shopping
crazy in watching TV!
yeeeeepiiiiiiiiiiiiiiieeeeeeeeeeeeeeeeeeeeeeeeeeee enjoy~
Today, i jz receive emails from 2 *BLOGSHOP* tat the order i made will be arrive either tmw o a day after tmw. wink :p so so excited for the puffy skirt as i really find it for so so so so long time!i had found it in Top shop!but it jz too pricey for me! LOLZZZ RM138 for only a small puffy skirt? no way! i will need to sacrifice other stuff if i bought it! LOL but luckily finally i found it la! haha will blog it out in the future la! haha
so talk about cny~ hehe
r u all ready for cny?? hehe i'm still collecting n searching for my cny clothes! hope ter will be surprises during this cny~
here is the list as a preparation for cny 2009 *updated on 16/1/09*
1. date wit the dentist~ haha *to wash my teeth*
2. beauty up my nails!
3. MJ eyeshadow~
4. MJ mascara
5. Red colour ear rings n bangle
6. Gold colour bangle
7. black jeans
8. phone deco
9. laptop skin
10.room deco * a chair as well*
11. LOSS WEIGHT! omg....i'm eating too much since i bac from cyber! LOLZZZ
tat's all for now! orzzzzzz mama help!!!!
haha
happy new year everyone :p