29/11

我问:hey,你有没想过带我去旅行?
他说:做么叻?
我说:没有啦!你快说!
他说:会阿,要去哪里就要一起PLan...
我说:哇,好彩。。。
他问:做么突然问我酱的问题?
我说:没有啊!
他说:一定是看那些什么乱七八糟的blog还是节目然后把它apply在我身上!
我没说:!*—·*(—·)(*—……%¥##¥—*—#·酱他也知道 =.=""

i cried each time i watch it....
23/11

STRESSSSSSSSSSSSSSS
chantchantchant

21/11

I've got a return from the risk...
jz bac from exam,finally one paper down...
not to cheer yet..cz 2 more coming in next week n its in a continous based...
n aslo, the queen kong no long queen kong...
she is SICK!
i'm not feeling well for few days d...especially in the night...da CH is torturing me..*ColdnHeat*.
anyway...
one thing to share here is...finally i ve got my lacey DRESS!!!!
n to my surprise....it fits me well, neither too short or too small!
ngam ngam~ excited!!!!
now waiting for lovely clincher...
n ohya..i will not be dressing up nicely duting this period..
therefore, i oso dont know wats the purpose i bought this dress =.=""
maybe it can help me to release stress?
yes! it does!!!
n tonight will another night at Studio x!
its a small bar wit ppl full in passion!
love their hands but afraid of the night...czi have to travel there at 10pm n bac at 1am =.=""
oopsss...i m very hungary leh!! anyone can tell me where can i get pure white porridge in cyber n sk area?
i cant cook cz no stove :(

19/11

I'm taking risk!~

pic credited to girl about town

i love this cutie lacey dress....from the bottom of my heart...*ngekngek*
but it's 76cm length....a LITTLE bit TOO short for me..
but i still buy it =.="""
ive been a long time did not shop online!*SG.WANG ALWAYS**ngekngek*
n this Ms.Lacey keep on calling me like the one shown in the shopaholic movie...
n i can;t stay anymore....JUST GO FOR IT! yuhhhhoooooooooo
the most important thing is...they have a great service!!!!1
so no matter i can wear o not! i will still love their blog!!!~
*meme*
n n n n n n n
i love this belt!!!-click
STUDDED BOW BELT!!!
walao eh! so tempting le wei!
n i found it in Malaysia!!!!
FYI, this girl is from LAS VEGAS, a taiwanese name Stacy, here's her blog
she used to share a lot of *BOW theme clothes* that i lovelovelove!!!!
bump there n see see ba!~
ps: Stacy,不要骂我偷link你的部落格哦!真的太喜欢你蝴蝶结studded腰封了!
好美好美。。。
庆幸的事。。。我在马来西亚也找到了!!!
开心开心!
希望一切顺顺利利的寄到我家!好期待~!!
18/11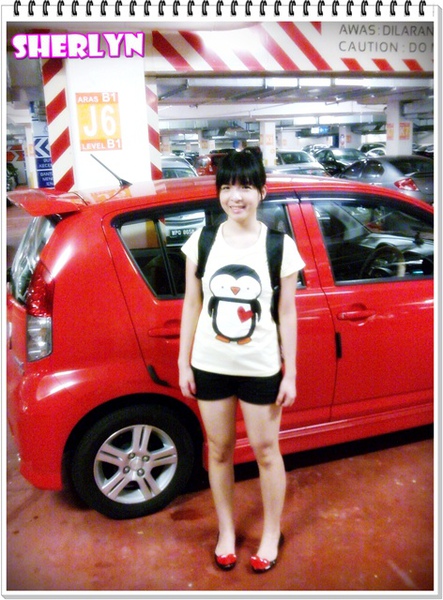 Last month pic =.=
time past so fast!!!!!!!!
n ter r 2 ppl said tat i look like penguin today =.=""
cz tats the shirt i wear today with my happy go lucky harem pant =.=
ive been really busy these few days n it will still be the same until next wednesday nite =.=
performance + assignments + exams = f.a.i.n.t
seee u next wed ba~ :p
ps: i love my recent DIY! inspired by violet!!! a bit Hime + Vintage tat kind of feeling!~ lovelovelove~
12/11

12 days diary update~
woohooo!
had been busy lately! examsexamsexamsassignmentsassignmentsassignmentsclassclassclass
n i dont know wats wrong me recently...i slept a lot!
on the day time =.="
n wen comes to the night time, ill surely have imsomnia =.=""
n tis is wat i do wen i dont sleep!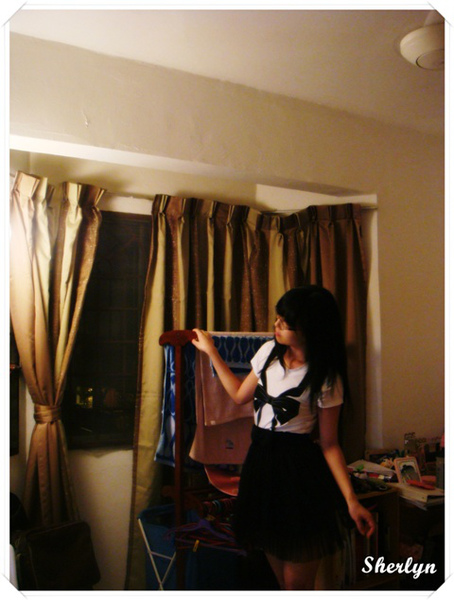 yesterday night =.="
i can't sleep! walk here walk ter, try here match there, n even pecahkan satu RM1.90 cawan kesayangan Mr.Bear =.=""
i was trying to take pictures by myself *without bear* n tat's my SUPERLY LOVIE TUTU SKIRT!!!!
pls ignore the tualas and laundry bag! jz focus on the tutu k?
i bought it way cheaper than wat i saw online! can bargain somemore!
they have it in 3 colours..but i ended up buying the black one only cz tis is the only one which wont makes me look fat =.="""
n tat's how i look in spec! n for sure, i wont let u guys to see it! hahaha cz i look damn stupid n ugly!
tat's y! dont come to my house at the midnight or else i will scare u away! ahah~
n here's my very-long-time-no-see-n-nearly-become-a-member-of-u-can-own-my-love ruffle top dresssssssssss!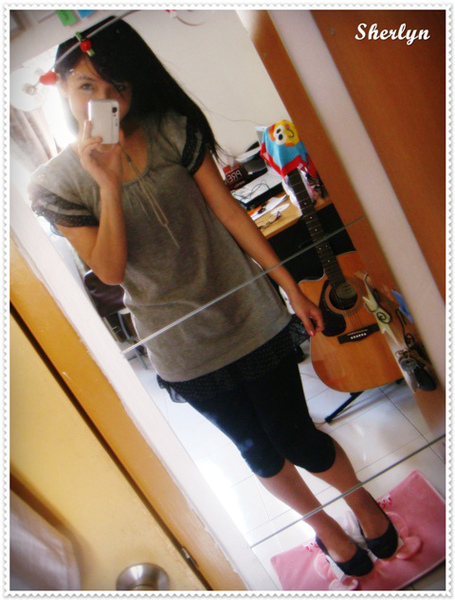 ruffle top dress from P&CO!
it's been sometime i love tis top much!
it was kinda expensive wen i bought it! RM99 =.="
i can buy 3 tutu skirt liao lo!
hahah but anyway, i still love it la!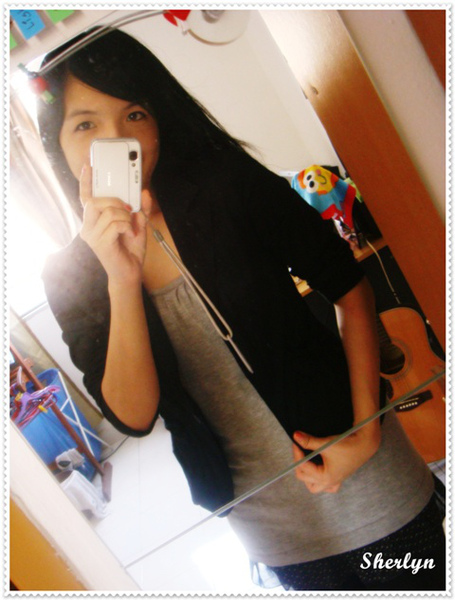 a blazer jacket is totally awesome for our winter class! i dont whether is my problem or the uni problem. I feel cold all the time =.=""
ohya! my surprise! i found tat the shoulder part ter become *MJ style* when i pair it up with this ruffle sleeve! wkakaka~ the ruffle boost it up n made it look like there is shoulder pad in it! it's not very obvious though!~ =.="
k k ~ later update more! taking picture =.=""
ps: i saw one shoulder pad dress veryveryveryvery nice de at Ms. Selfridge! but i didnt got to try it! cz i know if i try will be equals to buy! so i rather go IKEA for meatballs! wanan save up money for graduation trip! dont ever wanna buy those trendy but no-occasion-to-wear-clothes! even those impulse-purchase-clothes! =.="

1/11

WAH!!!!!!!!!! SO FAST!!!!!!!!!!!!!!!!!!!!!!!November d nehx! lolzzz..
Tomorrow i'm goin bac to uni for yoga class! oh-so-nervous! cz i choose the advance class! mamamia~
anyone joined? or wanna join?
Tmw FIT ATRIUM 8-9pm.

Don't know whether my bone will crack o not!

ohya, finally i ve got my DIY DONE! it;s totally simple n easy n unchallenging wtfish
will show u guys tmw or Tuesday!~
nnnn
ohya, finally i ve got my first n ever colour lense!
had been tried out Freshkon Bigger eye in Black, the effect was AWESOME!
Therefore, planning to try out some other colours~
guess wat colour i bought tis time?
well, no need to guess...cz u will see me wearing it tmw!!! weeee

ohya, finally i ve found da magic eyeliner which doesnt smudge AT ALL when my eyes goes teary!
n it's a bit blue-ish tat kind..not too black~
ohya, finally i ve found the nail colour tat i wan! gonna start with basic nail polishing n then proceed to manicure!
ohya, finally i ve succesfully mark down my expenses in tis 3 days! n guess wat! i overspent

i should spend RM15 on food each day, but i failed...i ate pappa rich as my lunch n subway as my dinner.
pappa rich RM12

n subway around RM 10, so it's RM22

I'm gonna improve it soon! no worries! wakaka~
ok~ chao~ tmw class again! pheeeeeeeewwweeeeeeeee
ps: ppl keep asking me, y am i use nehx so often? izit becz i love japanese language?
oh no! i dont even know tat i use tat word so often! n i dont even know wer i learn tis word from!

pps: i jz watched MJ's This is it!!!! OMGGGGGG! IT's awesome!!!!! love n miss him lotttzzzz!
almost cry in the cinema!