YUHOOO!!!
YEAH! BLOG'S VISITORS GONNA REACH 100K SOON!
It's a motivation for me to keep writing this blog...
I've been facing blogging bottle neck for a couple of times...However, i m glad tat i'm still here!
For my family, my friends, my readers n myself!
I'm gonna put more effort on this blog n share as much things that i can!
Thanks to all my friends, readers n family!
I love ya all much!
I was quite an anti-social person...Never even dare to hang out with friends or chat online...
This is due to the super-low confidence n super-afraid-ppl disease!
I cant really talk to others like wat i used to in my blog....i mean talk those that i really wan to talk!
Except my precious ckl & Blue angel n ji muissss Wei shan, pei shi, winnie!! I love ya all! I'm gonna miss u girls much after we graduate! *CRY*!!!!!!!!
Besides my ji muis n da bf, here r the only place that i can express all my feelings...
reading back the old archive...i found tat...i've been gone through different phases!
From an super ordinary girl who dont really know how to make herself look pretty until now....a girl who knows what's her weaknesses n know how to cover up all her weaknesses! *I mean in terms of fashion! I'm not really good in fashion...still have a lots of things to learn!~*
learnings never end! i'm gonna work hard! for my dreams, my family n da bf!
I love u all readers! especially janice, poh sian, theng theng, xiao xing n a lot more! u guys r all my friends!
Thanks for being here...hugssssss
ok! i shall stop all the emo-ness here!
n yesss!!!! 100k give away contest!!!!!
#1 Sherlynlicious make up pouch!!! *First Prize x1*

#2 Sherlyn's hime vintage bow brooch!!! *Love Prize x 1 *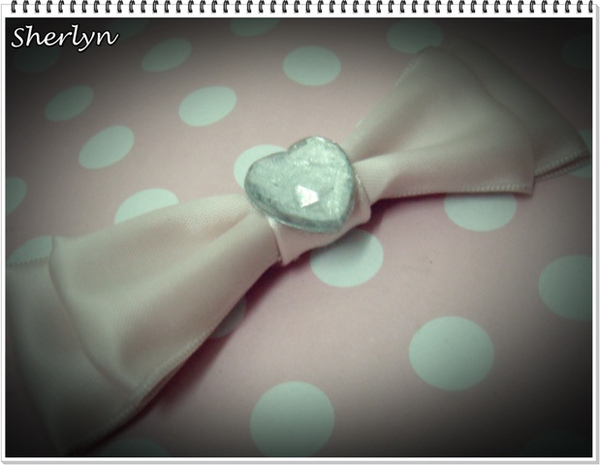 Conditions :
Answer questions below by leaving a comment here

1. What you like and dislike Sherlyn's blog? *I'm READY for the guns! no worries!*

2. Anything that you hope Sherlyn can share here.
*The first person who able to get the 100k visitor PRINT SCREEN and send to Sherlyn's email,
piggysherlyn87@yahoo.com , will stand a chance to get the yellow cutie quilted make up pouch!*
ps:
(1) Prizes may be added..Depends on participants!~ I'm still looking for pretty stuff as prizes :p

(2) Make up tutorial n boutique loves coming up soon! tunetune! :p
Love,
Sherlyn