SILLY ISSUE ONE
I used to put all my bags in a big pinkish box!
However, its full already! So, due to laziness, i just put all my new bags beside the box!
n guess wat? *BAG*SLIDE* happened!
All the bags slided down straight to my maggi meee! *i dont have a table right now! so i do all my daily activities either on the floor or bed*
I ARGHHHH n fly straight to rescue my pretty bags!
n Thank god!they were safe!
BUT, they r now full with the smell of my Maggi Mee!
So i asked bear for anything that i can spray on my bags so that i can get rid the smell!
Bear didnt answer me =.=" He used to be like tat especially when he's surfing the net!FB-ing for whole day long!
So i just i take out the Febreez and spray all over the bag PLUS all over my house!*cz its quite smelly oso!*
Suddenly, he jump out from his lap n shouted, GOD! THIS IS FOR MATTRESS/CLOTHES! NOT FOR OTHER AREA!
I had already spray the Febreez almost 99% of our room that time:(
At the end, his upper body full with Febreez smell =.="
*cz i spray all over on top of his head n laptop =.=" he nearly faint after seeing my action!*
So how ar? i dont know ma :( i've asked u n u dont want to answer me so i ma spary the whole house with the newly bought Febreez lo :(
SILLY ISSUE TWO
I'm so craving for Ice cream n thought wanna make myself a milo ice cream!
So, I tear off the 3 in 1 milo ready packet n put on hot boil water, stir it n fridge it!
GOD! Bear shouted again!
DONT U KNOW THE GLASS WILL BREAK DUE TO THE SUDDEN CHANGE OF TEMPERATURE?
OMG! I totally forgot about this thing!
He laughed so seriously at me!
I know...i'm always the silly one :(
Sorry lo :((((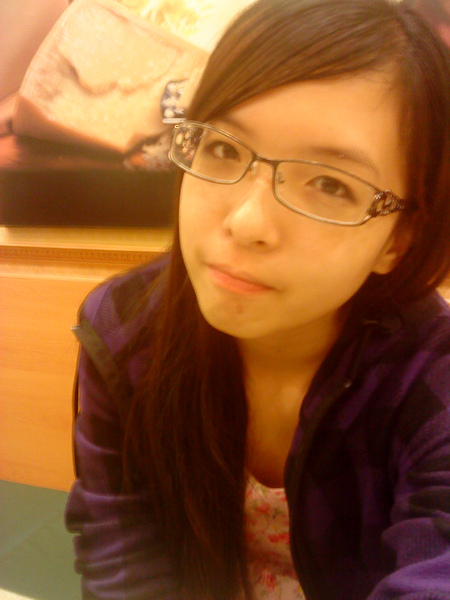 Silly Sherlyn with silly spec =.="
Don't look at this picture if u can't sleep! cz it will make ur insomnia more serious! wahahaha