Preparation~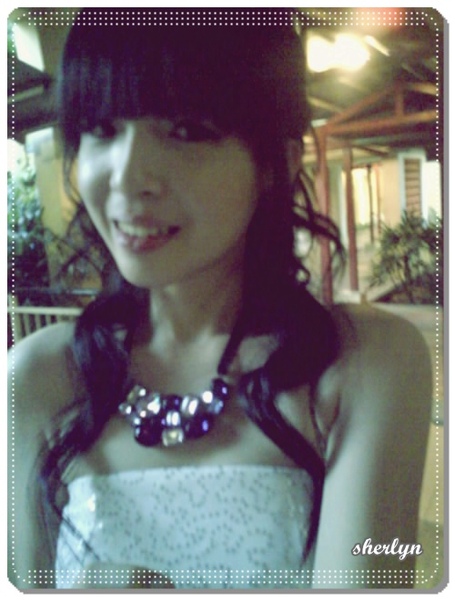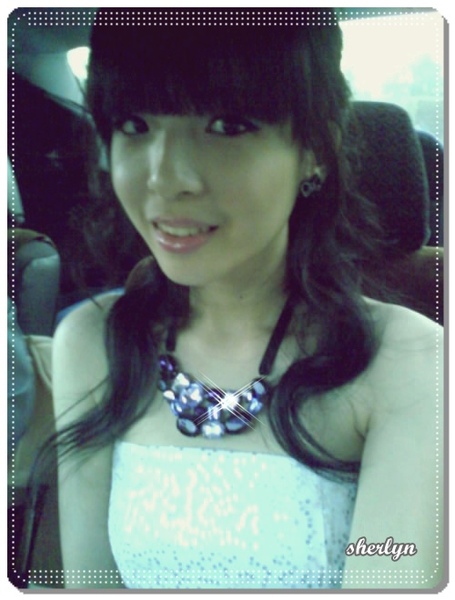 *special thx to shi hui*
ps: i god damn love tis necklace no matter wat!!!!!!!!
Sunway hotel resort & spa lobby~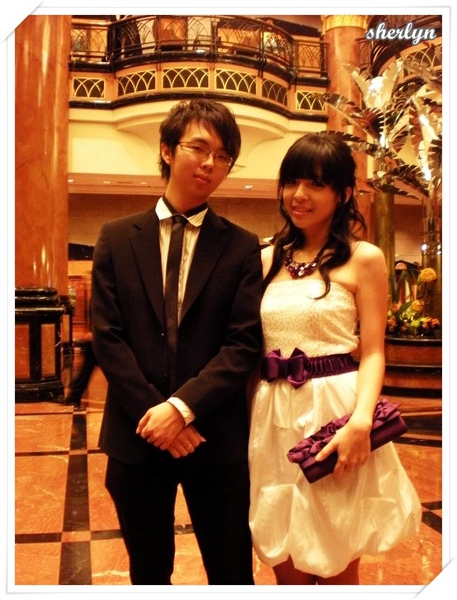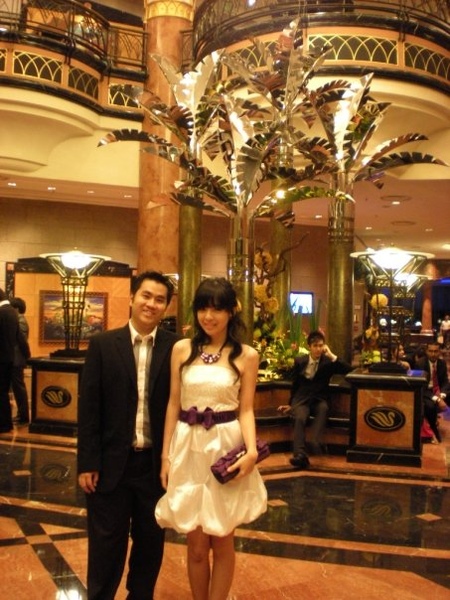 thx wei loon n ah sam!!! haha da bodyguard!!!!! nasib baik i tak kena chao sui wen clubbing~ haha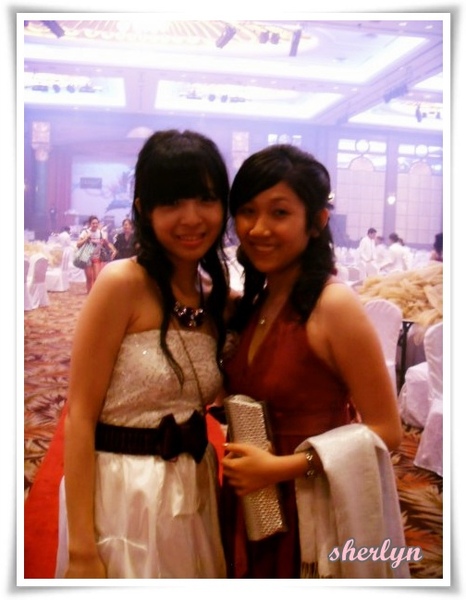 me n lovely yei mei~ who is the event director~ YEIMEI! one word! BRAVOOOOOOO!!!!!!!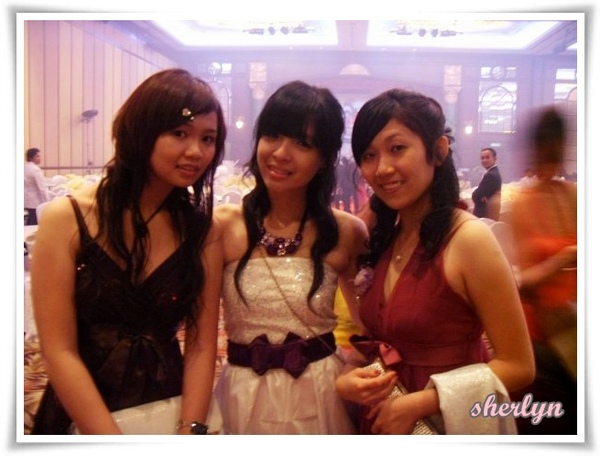 shirly, me n yei mei :p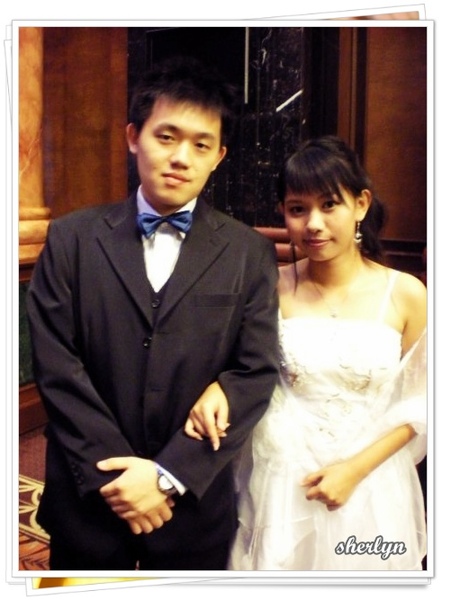 see! the food came out like tat de leh! hehe cute :p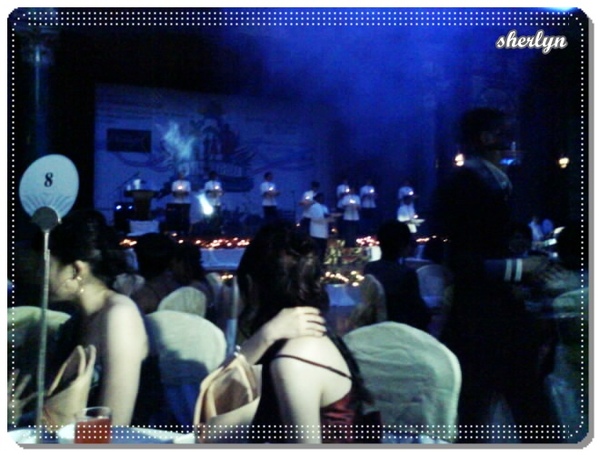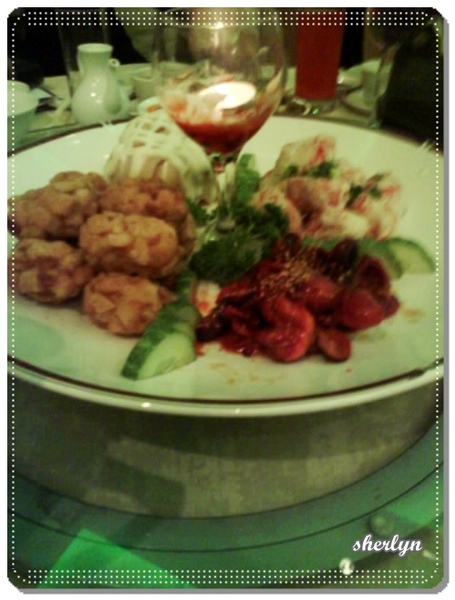 *taste normal*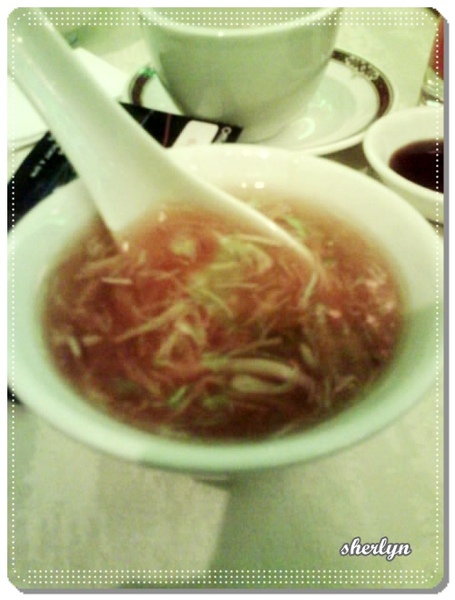 *love tis! yummy*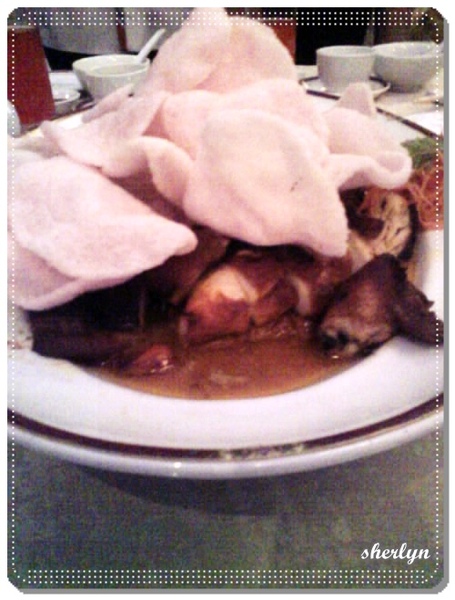 *not interested on tis but it seems quite delicious*
for ur info, i dont like chicken~ hehe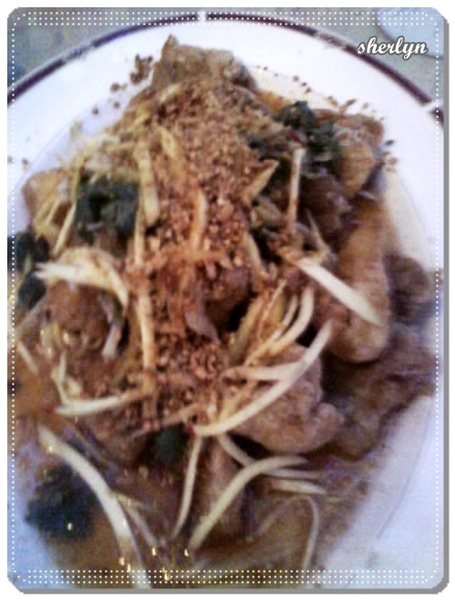 *the best of da night* love tis!!!!! izit sweet n sour fish? ha
i missed a lot of food cz i was way too busy on taking photos!!! haha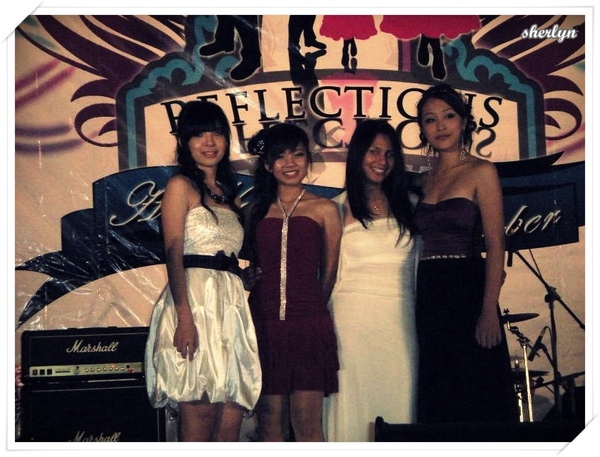 da prom queen nomination~ i wanted to be the first to go down! cz i know i wont win!!!! they r so gorgeous!
so sia sui lo! i faster run down once they announce the prom queen! haha
i m not pretty gal la wei!!!!! but it is a small great experience la! ha
y izit *small*? cz i didnt do anything n jz stand ter for few minutes n then go down le~ nothing to learn oso~ haha
but ter is still a little experience tat i learned is to *smile*! hehe
jz found tat the gal at the right side *no4 right* is so sexy n pretty! haha wakaka!!!!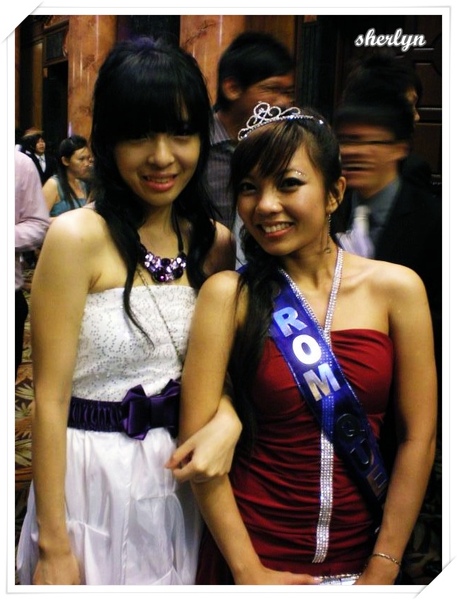 da prom queen of da night~ SO PRETTY N SEXY rite???????????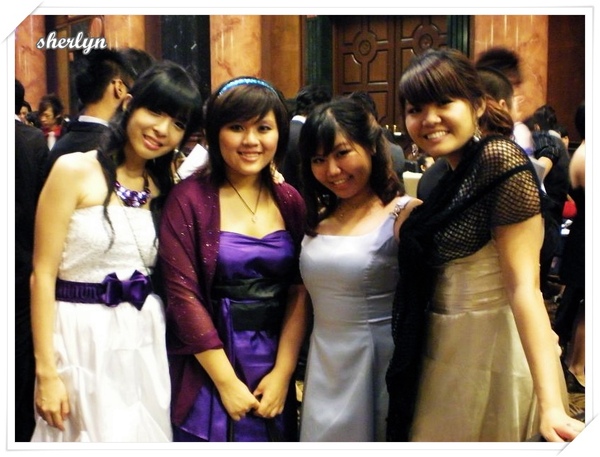 yeah!!!!!!!! we 4 gals!!!! from dance class de leh wei!!!!!!!! ha all very pretty rite?*wink*
ok let me explain to u all about the outfit~
mine : purple is da theme colour of this year!!!!!! n i love purple so much!!*after pink*
adelyn : she adjust the bottom of her dress to become toga style~*creative*
christina : I M SO IN LOVE WIT HER DRESSSS!!!! her dress is from US!!!! pretty rite? oh-so-vintage!!! i love it soso muchi!!!!!
shihui: *phiuuuuuviiiiiiii sexy gal* yahoooo!!!!! haha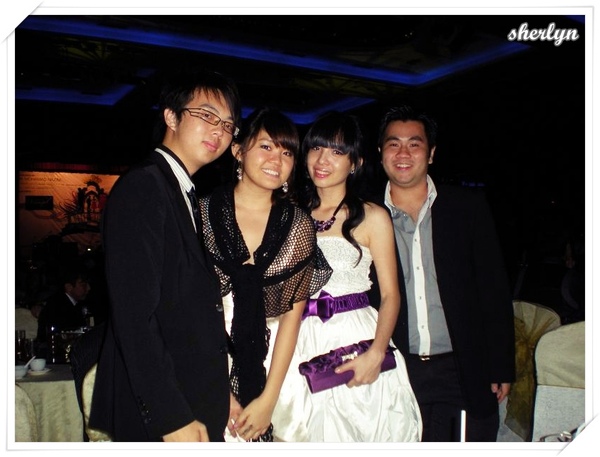 sam, shi hui, me n wei loon~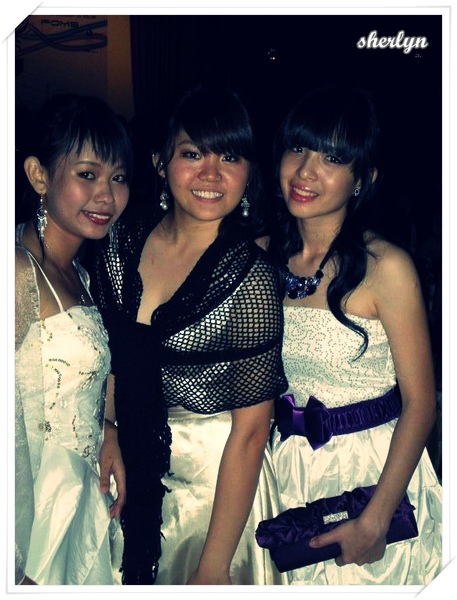 pretty shindee, sexy shihui n stupido sherlyn! ha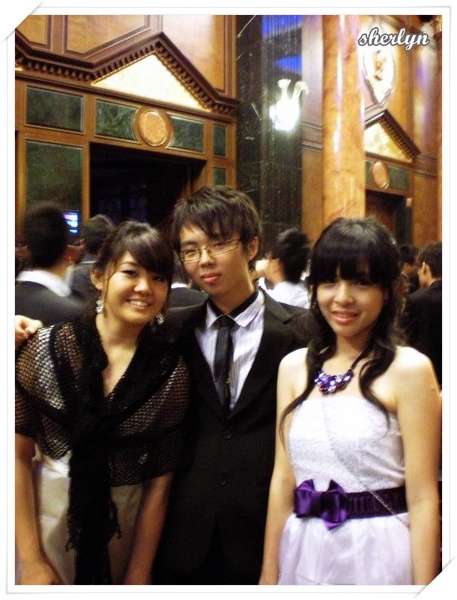 I AM THE BIG LIGHT BULB!!!!! hahah u 2 looks pretty match nehxxx! ha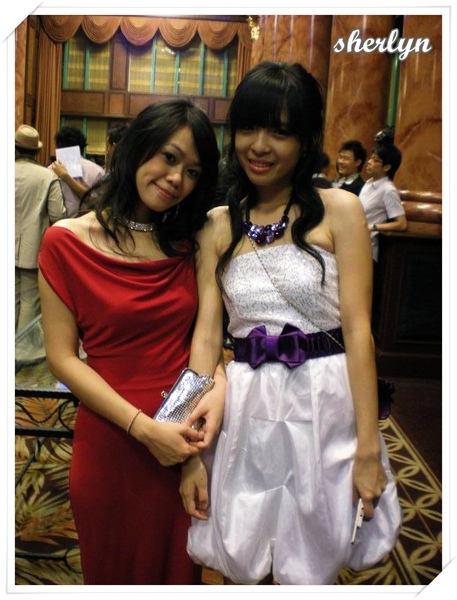 me n Valerie~ Val!!!! i think u looks more pretty d nowadays~ its been quite a long time i din see u~ i was like *WOW* wen i saw u! :p
MALAYSIA DREAM GALSSS!!! OMG PINKY,DAWN N MING!!!! i love u 3 galsss!!!!
but so sad! i failed to capture Ming's perfect posture! lolzzz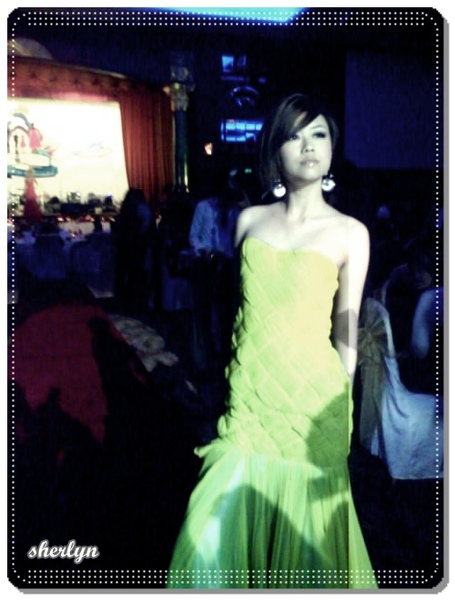 Pinky posed really well tat night!!!!! she improved a lot n i think she looks more gorgoues in real person!!!!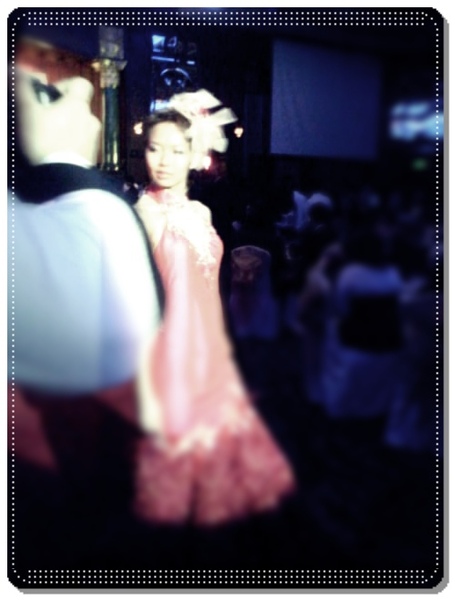 Dawn!!!!! the gal tat i love in MDG!!! she do well, pose well, learn well and act well!!! her attitude is so good n she never complain *too Much* about her hairstyle!!! love her behaviour n attitude! she will go further n further n further n shine like a star!!!!!!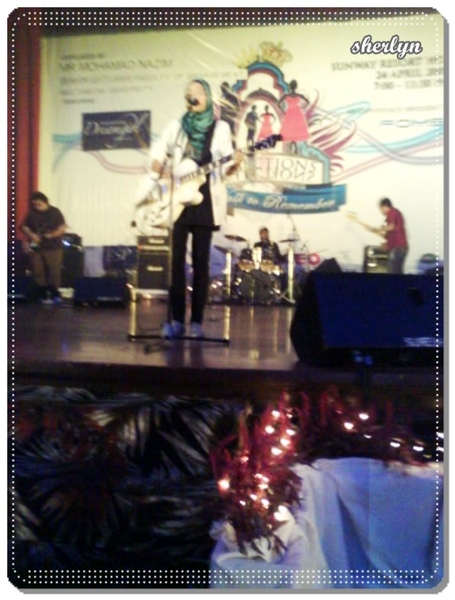 YUNA!!!!!!!!!!!! she has an amazing voice!!!!!
she sang so well tat night but so sad! ter is jz a lil ppl tat paying attention on her! sob!!!! everybody is busying on dancing nia!!!!
i love her voice at the first sight! my bro told me tat she is one of the singer from Malaysia, i m not really believe on him until i meet YUNA in person!!!! wauuuu love u YUNA!!!!! MALAYSIA BOLEH!!!!!
ok! its party time!!!!!! MOSSSSSS~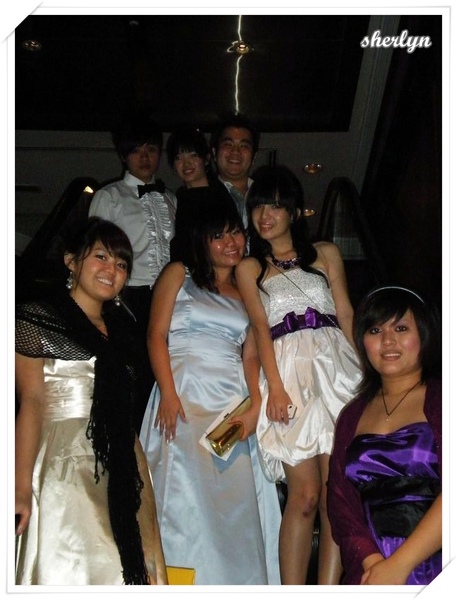 View my princess style for another minute~ *hehehe*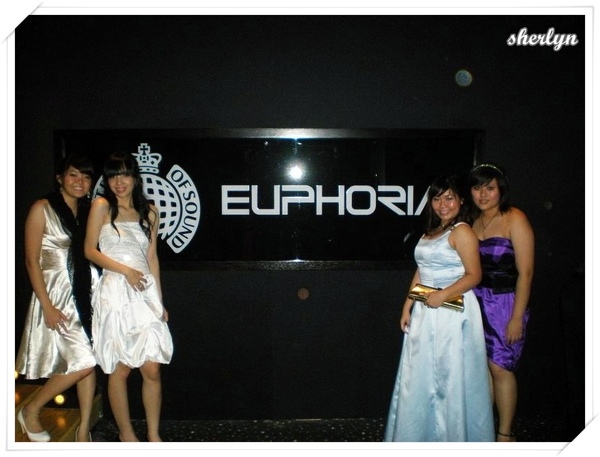 yeah!!! take off everything!!!! *except the dress la of course! ha* its party time!!!!! yeah!!!!
i was craving for clubbing for quite a long time d!!!!
I LOVE DANCE!!!!!!!
but ter r few reason tat i forced myself not to go!
1) i hate smoker
2) i hate drunk ppl
3) i dont drink
4) i hate bin tai lou
5) my bf's wallet will bleed so seriously each time i go for clubbing!
anyway!! ITS MY 2nd TIME FOR CLUBBINGGGGGG!!!!!yeaaaaahhhh!!!! yeepie yaya yeepie yeepie ya!!!!!!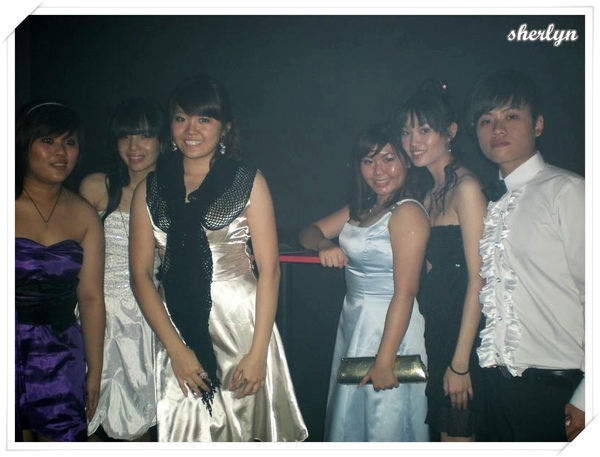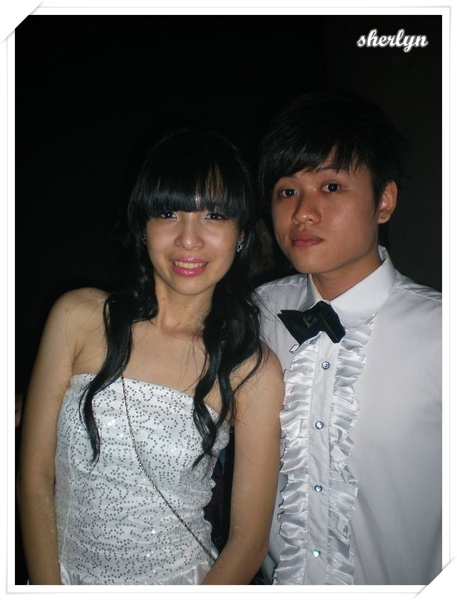 the MMU CLS president!!!! do we look like bride n groom?haha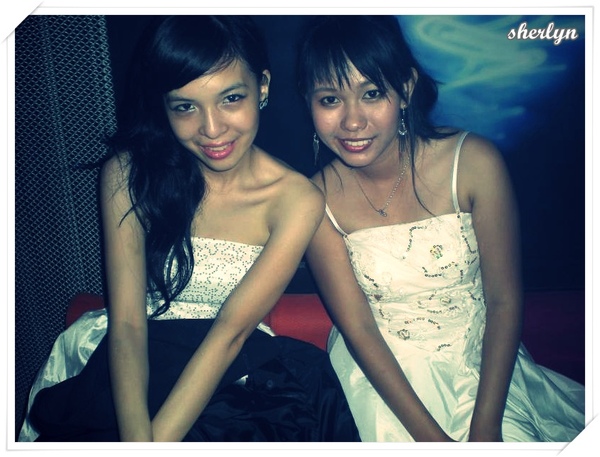 split off my fringe~ WEEEEE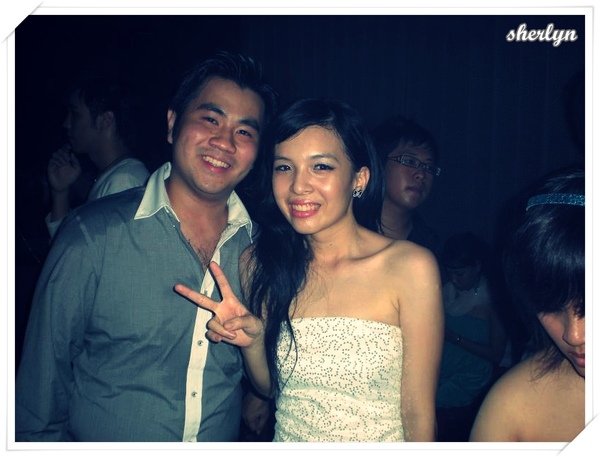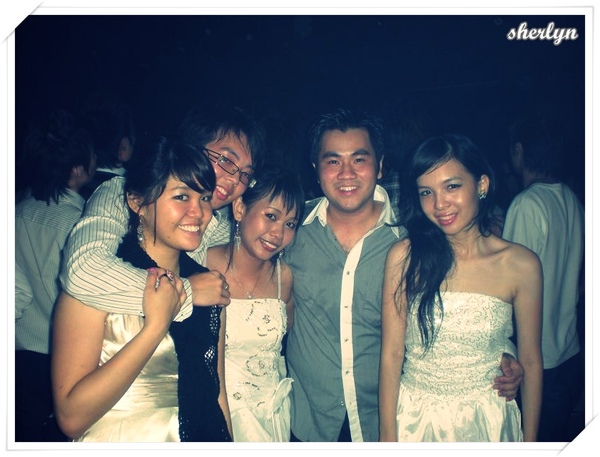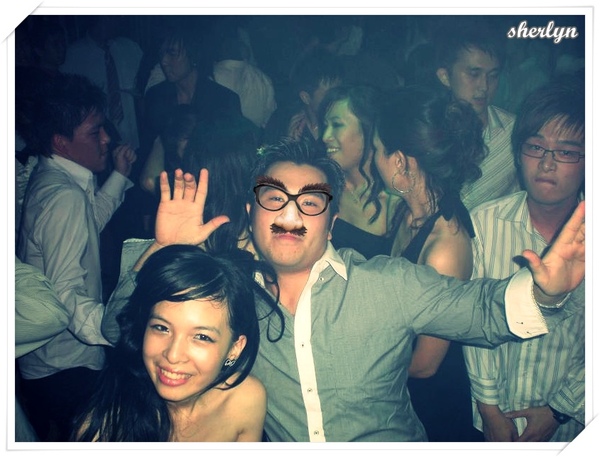 lolzzz WEI LOON!!!!! U R SO HANDSOME!!!!!!!!!!!!!!!
ps : faster see Richard dance!!!! ha is he cute? haha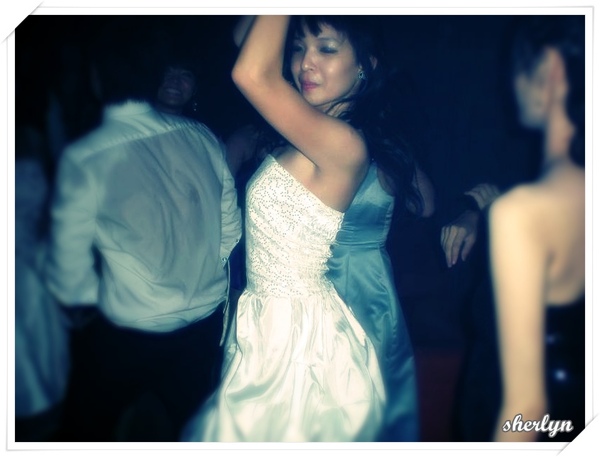 YEAH!!!!! I AM THE DANCING QUEEN!!!!!!!!!
tell u all wat ar! i really dance kao kao cz i know i wont be able to go anymore!!!!! n i have a lot n a lot n a lot of stress!!!!!
DANCE IT OUT!!!!!!!!!!!!!!!!!!!!!!!!!!
ohya! really happy dancing wit LIM HAU YEE leh!!!! he is so cute!!!!! lolzzzz haha
i m searching for SHirly so badly tat time!! but i didnt got to see her!!!!! i wanna see her dance!!! hahah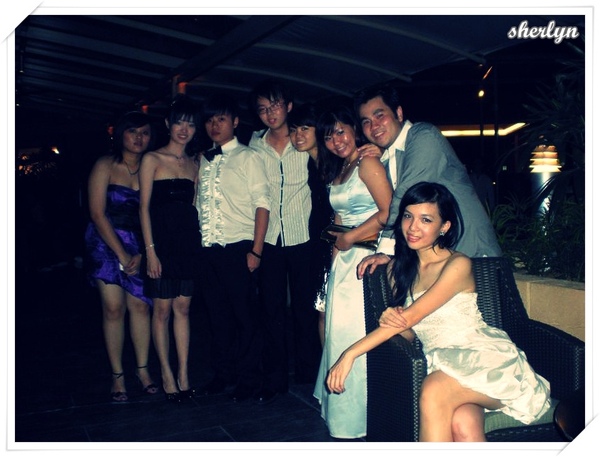 we all~ :p
yum Cha session~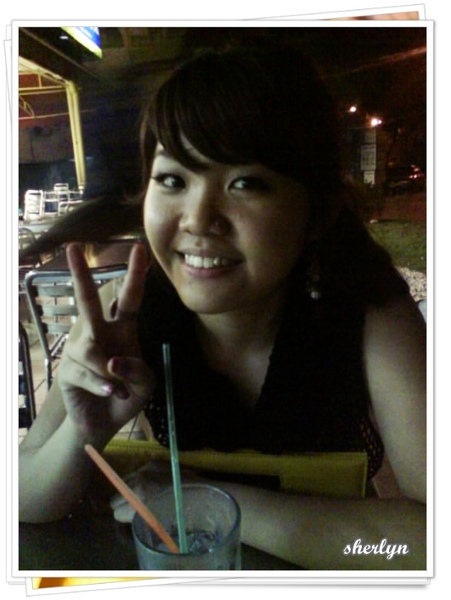 da pretty hairstylist~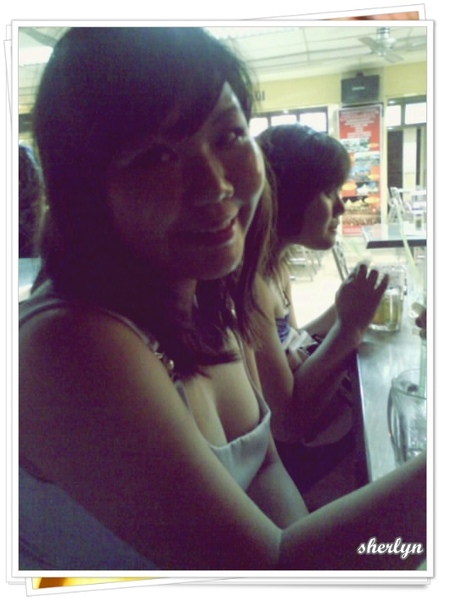 da pretty dancing queen~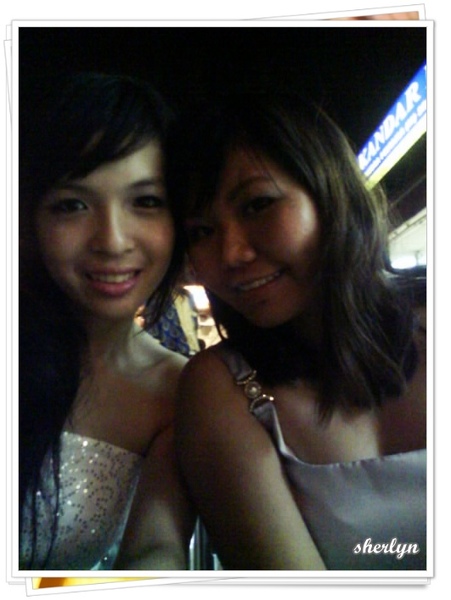 me n theng~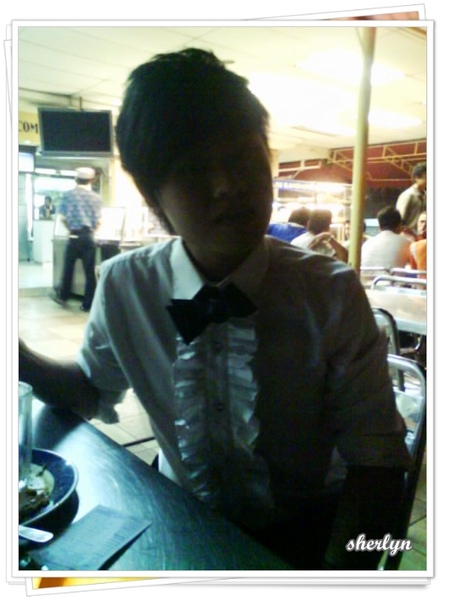 da stupido Ah cheng!!!! hahaha dont kill me!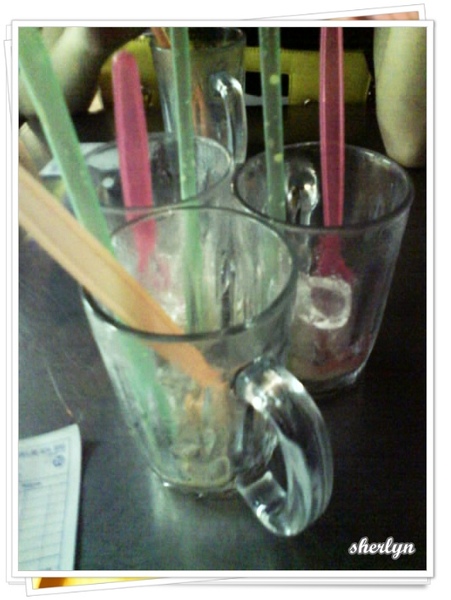 Shelrlyn's Malaysia record!!!! 3 glass of teh ice not more than 30 minutes! haha
-the end-
Before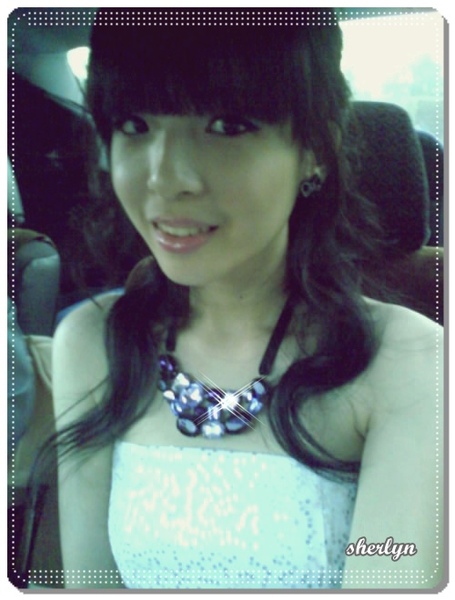 After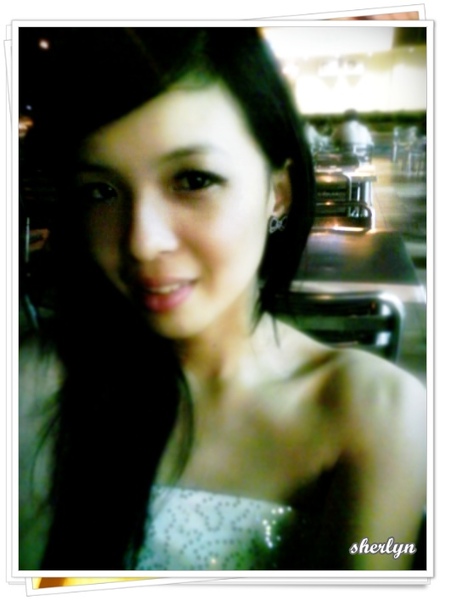 weee weee~ which one better? haha
ps: anyone who have my pics de can u all pls send to me?? plsplspls
especially me n MDG de,me n michele de, me n Shirly de, me n laurel n jia qi de, me n pei shie de, me n yeimei de, me n accounting friends de, me n xiang hui de, me n yong qian de, me n qreez de, me n i dont know le!!!! too many d~ i forget jor!!!! sob!!!!!
my stupid handphone camera lo!!! lolzzzz
faster reach 50 k views!!!!!!!! i want n need a camera badly!!!!!!!! sobsobsob
ei nope! faster go for work!!!! i want n need money badly!!!!!!!sobsobsob
ohya! the most important one!!!! ELAINE!*Adrian's gf* if u read my blog, can u send ur pic to me??? cz i wanna post it out! its my first time on helping ppl make up for prom night!!!!!!! a great experience in my uni life~ so plspls send me k?
or if siao sze if u saw tis, can u pls tell her? thx a lot o ~ muacksssss